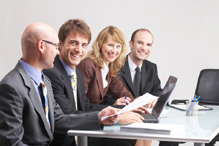 Demo Schedule
& Registration

---
We believe that the best way for you to see how our web-enabled Talent Management tools will impact your organizationís profitability is to have you go through a short guided tour to explore their feature-rich functionality. To schedule a demo, Contact us.

Sandboxes

---
Contact Us

---

For more information about our Products, Programs or Professional Services in Canada, The United States, The United Kingdom or the European Union, please contact the following:

Alternatively, you may use the following contact form:

Whitepapers

---



Success Stories

---

A Large Fast Food Chain has over 800 restaurant locations with approximately 2,000 managers and 34,000 employees. Employee exit interviews suggest...

A Technical Services Provider has 3,000 Full-time Contract Network Engineers and Service Technicians and draws on an additional 4,500 on a...

A National Retail Petroleum Company has a corporate/franchise mix of over 2,000 retail gas bars and approximately 7,500 employees. It was recently...