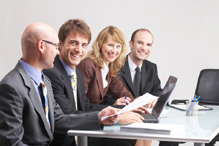 Demo Schedule
& Registration

---
We believe that the best way for you to see how our web-enabled Talent Management tools will impact your organizationís profitability is to have you go through a short guided tour to explore their feature-rich functionality. To schedule a demo, Contact us.

Sandboxes

---




A Large Fast Food Chain has over 800 restaurant locations with approximately 2,000 managers and 34,000 employees. Employee exit interviews suggest one reason for the high turnover is little/no consistency regarding new employee orientation, training and performance appraisals. Multiple language requirements exist. EPIC provides standardized, Internet enabled and automated processes for Interviewing, New Employee Orientation, Employee Performance Appraisals in English, French and Spanish. EPICís eLearning catalog was also integrated with EPIC for training in the following areas: Managerial and Supervisory, Customer Service, Interpersonal communication, Inter-cultural Sensitivity and Safety; the embedded Learning Management System (LMS) tracks individual learners through their curriculum to ensure compliance and HR reporting. As employee records can easily be re-assigned to a different store/manager, this single system of record will also be used track employees that start working part-time in one location while they are in High School and continue their part-time employment at a different restaurant location while in College/University.



Whitepapers

---



Success Stories

---

A Technical Services Provider has 3,000 Full-time Contract Network Engineers and Service Technicians and draws on an additional 4,500 on a...

A National Retail Petroleum Company has a corporate/franchise mix of over 2,000 retail gas bars and approximately 7,500 employees. It was recently...

A Pharmaceutical Company introducing a new product estimated it required approximately 200 new Sales Reps. EPIC Software selected a...